We all are familiar with the gravity forms; the most used wordpress form plugin that are easy to build, customize and use in the website. Gravity Flow is an add-on of gravity forms that makes the whole process automated by implementing the workflows.
Workflow can be created easily with gravity flow using simple drag and drop configuration. A workflow is then can be customized based on the user needs.
The basic purpose of this blog is to give you an introduction of gravity flow, its features and its working as an automatic workflow.
Gravity flow is suitable for any business process. Gravity Flow turns your paper forms, follow-up calls, lists and emails into most efficient workflows, that are securely stored on your website.
Companies, schools, offices, universities, hospitals, etc. in over 80 countries are using Gravity Flow for the purpose of automated admission applications, employee vacation requests, product demo approvals, medical supplies order process, patient intakes, etc.

Benefits of gravity flow:
Adding review loops:
In gravity flow you can modify the forms before approval, you can implement the review loops which allows the users to edit the form submission before re-submitting for the approval. You can also use workflow conditional logic for branching the processes or to skip specific steps.
As in the image the user submits a form that is directed to the specified person for approval if it meets the requirements it is approved and sent onto the next person otherwise it is reverted to the user for correction.
Easy to implement:
In gravity flow you can add as many workflows as you want and configure them easily. You can drag and drop them into the order you want and can activate/deactivate. You can also add new steps according to your process. There is no programming, prior technical knowledge or training required and there's no need to pay heavy wages to a team of developers to make the thing working. So, you can easily manage and oversee it without spending extra on the developers.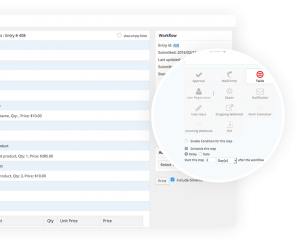 Powerful and Flexible:
Gravity flow is very fast, powerful and flexible that there is no need to worry about the workflow process. The steps that a user can add may include approval, user input/edit, notification, web-hooks and integration triggers for third-party services.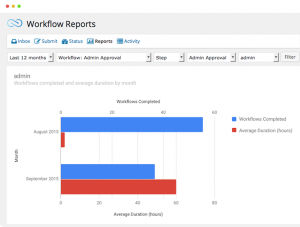 Detailed Reports:
You can keep track of the whole process in the detailed reports. Also, you can track the performance of the process and how long each task is taking and highlights bottlenecks.
Scheduling and expiration:
In gravity flow you can Delay a workflow step until a specified date or until a specified period of time has elapsed; it is particularly useful when configuring a series of emails to drip feed content over a period of time.
Optional extensions with Gravity Flow
Integrations
Purchase Gravity Flow:
You can buy this must have add-on of gravity forms (Ultimate License) from Hackleads for $60 and automate your process.
Why buy from us:
For Only $60, you'll get ultimate license of gravity flow
110% original product
Same files as bought from Gravity Flow
Fully untouched and unmodified files
Virus/malicious script/backdoor free product
Product Support also available
Latest version i.e. 2.4