The people are building their businesses online and the business that has no online presence, can't survive the market. The internet has made lot easier to communicate with the customers and collect their opinions and prospects about their products and services.
Many web design software are available for use but they are so costly that a small business owner can't afford to have them. The other concern about the issues that small online business owners face is the implementation of forms in their websites. A small to small business needs forms of all kinds: contact forms, newsletters, order forms and so on.
For that small business owners need a fast and easy solution for this purpose with less time and money.
For those there are free services available for the forms, such as online form builder tool, JOTFORM, which makes it easier for businesses to use and implement free forms onto their websites.
Introduction:
Jotform is an online form builder tool that is capable of building as well as designing the forms and then integrating the forms with different widgets and embed it to the website or can be used as a standalone form by using a link. Jotform updated its features and ease of use, that will be discussed in this blog.
The latest version of jotfrom is easier to use and more user friendly, more intuitive and has the ability to create card forms. Now you can use jotfrom for creating forms from a mobile device.
Why Online forms are needed?
Forms for a business may include contact forms, survey forms about a service/product, gathering leads, application forms, subscriber forms and so on. So, the question is why forms are needed for a business?
The answer can be thought by a managerial mind as it has the benefits of:
Improves communication between owner and clients
Collects vital data for the databases
Generate maximum possible leads
Makes it easier for people to contact you
Helps to get rid of long emails and phone calls
They improve the accuracy of the data
Automated form builders: Function
A simple form builder like jotform allows you to choose from a large number of templates, themes and plugins that are already available in the builder. You can customize the forms, their layouts, their themes and so on according to your taste or what the users will like. You can create any type of form either it is contact form, feedback form, abstract form, registration form, request form or signup forms.
Features of JotFor
Easy to use Interface
Using jotform you can create forms and make them working in a matter of minutes. In jotform the user interface is very easy to use and work with. You don't need a single line of code to make a form. The entire interface is drag-and-drop interface. You can easily build, customize and share the forms on your site or as an individual form in a matter of minutes without paying extra money for web designing or embedding.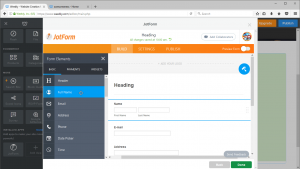 Ready-made themes and designs
You can make forms by yourself and customize or design them according to your taste. Also, there are hundreds of templates are available from which you can choose and edit them to make your own form. Theme designing is also a matter of minutes now, you can design or apply from already available themes in jotform. You can add your company logo, headings and even all the design matching to your company.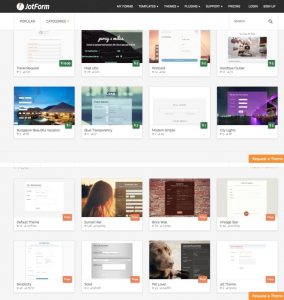 Widgets and Integrations
Jotform offers about 100+ integrations with business tools like salesforce, dropbox, paypal, excel, ans many more. You can upload the submissions to dropbox or google drive or can import all the entries in the spreadsheets. There are many widgets present in jotfrom that are helpful and helps to achieve a specific field in the form.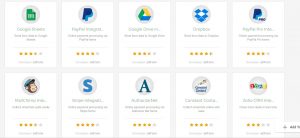 Conditional Logic
In jotform you can add conditional logic to the fields, show and hide the fields when a specific field operates. You can add calculations based on the selections of the users have made.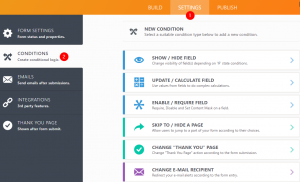 Auto-responder and Email Notifications
In jotform you can send custom made emails to the clients and also you will get an email notification when someone fills out the form. You can customize and edit the email body that you want to send users when they fill your form.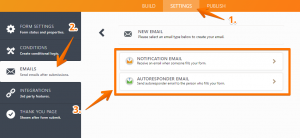 Editable PDF:
After user has submitted the form by filling the data you can set a custom made pdf based on the selection the data will show up in the pdf, that can be attached to the autoresponder email and sent to the client who fills the form out with the data in the pdf that he filled. This pdf can be edited easily by using the pdf editor.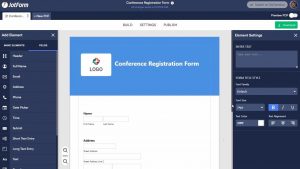 Payment Gateways
In jotform there are different gateways present that includes most common gateways like paypal, salesforce, etc. These gateways can be used in the forms in which you want the users to pay for a service or a product – the order forms are the specifically have these gateways included.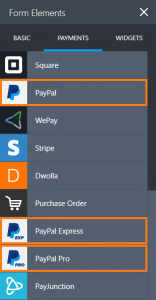 E-signatures
In jotform you can collect e-signatures online that are used for officiating contracts and signing the agreements. Making the users to just e-sign the forms rather faxing the paper with their signatures on them. It's far more effective and efficient than sending manual signatures via fax or scanned copy.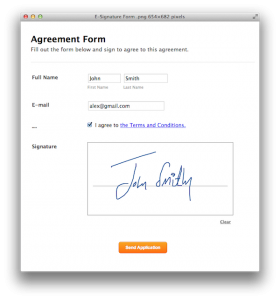 Custom URL
In jotform you can customize your url to the form by adding your company name in the link to make it look like more professional. You can follow these steps to customize the URL's.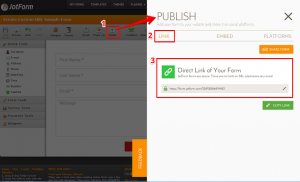 Infinite List
In jotform you can add infinite list widget that allows the respondents to enter as many entries as they can for a form field. This is mostly used when you need to ask the clients about their opinions and ideas. You can ask for game ideas, food menus that the users can list in the form easily. Also this can be used for suggestions for improvements in the products/services.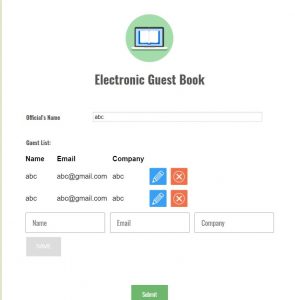 Pricing:
Starter package free for 5 forms and 100 submissions per month
Bronze package for $19 /month including 25 forms and 1,000 submissions per month.
Silver package for $39 /month including 100 forms and 10,000 submissions per month.
Gold Package for $99 / month including unlimited forms and 1,00,0000 submissions per month.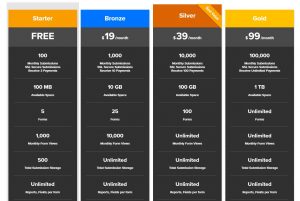 PROS:
All the features and customization are available in jotform
Jotform card version is also now available.
Different payment gateways are available so, it can be used as online shopping.
Thousands of ready-made templates and above 40 themes are available to just select and start with.
Form customization is very easy in jotform.
Conditional logic and branching is available in jotform.
24/7 customer support is available if user finds any issues or queries.
CONS:
Subscription limitations can prevent the future submissions thus the user has to manage the submissions at the end of every month.