In order to market your business and services you must need the most important thing that is email marketing. Its one of the most important thing to learn in order to excel in the business and generate more leads. Whether you have a small scale business or a large scale business you'll need an automated email service provider.
Most of the businesses have chosen MAILCHIMP as the email service provider. And its quite famous in the internet and automation of emails for generating leads.
There are obviously several reasons that why its so popular.
So, in this blog we'll be covering the features and working of mailchimp automation in general and comparison with other mailchimp alternatives in specific.
What is MAILCHIMP:
"Mailchimp is a marketing automation platform and an email marketing service. The platform is a trading name of its operator, Rocket Science Group, an American company founded in 2001 by Ben Chestnut and Mark Armstrong with Dan Kurzius joining at a later date. Mailchimp began as a paid service and added a freemium option in 2009. Within a year its user base had grown from 85,000 to 450,000. By June 2014, it was sending over 10 billion emails per month on behalf of its users. In 2017, the company was gaining 14,000 new customers every day. The company is still owned by its cofounders and has never accepted venture capital funds.
In 2016, Mailchimp was ranked No. 7 on the Forbes Cloud 100 list. In February 2017, the company was named one of Fast Company's Most Innovative Companies of 2017. In August 2017, It was reported that, Mailchimp would be opening offices in Brooklyn and in Oakland, California." (Wikipedia.org)
Due to its easy to use interface and forever free plan, mailchimp has now attracted more than 17 million customers and still increasing day by day.
How MAILCHIMP works:
MailChimp is similar to most other email service providers you may have tried. It has all the tools you need to collect leads, create emails, and send them out.
Signup Forms
For understanding the working of mailchimp we'll show a small contact form example that how its set up and how it works after setting up the automation.
For Signup Forms:
Firstly, you have to create lists to make a group of subscribers in MailChimp.
For generating the lists you'll need a form (a contact for or a subscriber's form).
Different ways for building up the signup forms are present in MailChimp.
There are a few different ways to build signup forms in MailChimp.
The first way is to build a form using MailChimp's editor. Which is when completed will generate a embed code that you can put into the website in the sidebar or in the end of the posts or simple can make it as a popup style form.
The form builder in the MailChimp is average and its interface is awkward and takes time to learn.
For designing purpose, you have to open a separate tab to do any styling customization rather than clicking on the element to customize it.
For building forms and designing them we'll recommend to use Jotform, gravity forms etc. because that works perfect and can be styled easily.
Campaigns:
Campaigns are the place where you will be able to create emails that you want to send to the list of the subscribers.
In mailchimp there is step by step process in setting up a campaign.
Picking up the campaign type
Which subscribers in your list you want to send to.
Give your campaign info.
Once you pass these steps and all done, now you have to create a new template for the emails (newsletters). There are pre-designed templates available in the mailchimp from which you can select one or can create your own.
The email editor is a drag and drop type editor and its easy to use. The tab on the right side allows you to add text, images, buttons, videos into the emails. You can re-arrange them according to your choice.
To change the look and stylize it you can go to design tab where there are various options like background colors, borders, background images, and other elements. Recently, mailchimp also added web fonts which allows you to customize the look of your email.
Once, all done at the end you can review all the options of the campaign and send it to the subscribers or schedule it for the future.
Mailchimp Automation:
Mailchimp has very simple automation capabilities. Mailchimp includes 15 pre-made automation workflows which can be used instead of making your own.
You can access the automations by choosing the automated tab after creating a new email campaign.
The most useful example is the E-commerce automations like if someone has added products in the cart but not purchased yet and left the site, you can use abandoned cart email workflow for this. It will send follow up emails to the potential customers.
Moreover, the automations you create can be edited but in mailchimp its quite difficult to do as its not very easy to use.
Pricing:
Mailchimp has different packages based in the need of the user.
For new businesses there is a free plan that is forever free and gives 2,000 subscribers and 12,000 emails per onth.
Grow package for $10/month for unlimited subscribers and emails.
Pro package starts for $199/month for unlimited subscribers and emails.
You can check the official website for pricing!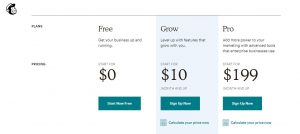 Mailchimp Pros:
Tidy and quite intuitive interface
Can be integrated with most of the 3rd party apps and services
E-commerce support
A/B split testing support for broadcast emails.
Pre-designed email templates
Solid reporting
Free plan for lifetime
Mailchimp Cons:
List-centric, limiting flexibility
Doesn't support complex marketing automations
Charges for duplicate subscribers.
Average built-in form builder
Doesn't support for tags
Can't be used for live events like webinars
Non-existent community
Free plan is limited to 2500 subscribers only