GOOGLE FORMS:
Google has taken over all our functions and work. Google owns almost all top apps and services ranging from a to z. Google has also developed google drive that encloses a variety of apps like google docs, google sheets, google photos, and so on. Google forms is also the part of the google drive. Google forms provides a variety of tools for the form development with its inbuilt tools. The most easy and simple to use platform for the web forms is now google forms. Google forms stores the submission data in the drive as well as arranges the submissions in a well-organized way, that can be integrated with google sheets also or can be imported in an excel format. Most of the people who don't know how to make a form, jumps to google forms due to its simplicity and easy to use interface.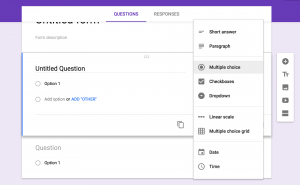 Pros:
The biggest advantage of google forms is that its free of cost and you can make unlimited forms and collect unlimited submissions.
The form building procedure is faster than the other form builders in the market.
Google forms provides a quick overview of the analytics and graphs as well using further processing of data.
The google forms can be shared with anyone for editing as a group or individual.
Cons:
Limitation of the customization of the form.
No payment fields are available, in short only basic form fields are available.
You can go to Google Forms here and start building up your first form.
WUFOO FORMS:
Wufoo, another web form builder that is also popular these days. It provides different features and more importantly it also allows users to customize their forms. The users can add payment options as well as file upload fields. The interface is a drag and drop interface in which the user just has to drag the field and drop it in the form section, which is perfect for beginners as well and professionals.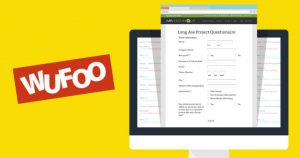 Pros:
Wufoo has an intuitive drag and drop interface for ease and simplicity.
In Wufoo the user can analyze the number of visitors to the form as well as how the viewers utilized the form.
Payment integration is available for online order forms using PayPal.
In Wufoo the logic and conditions can be setup according to the need and usage.
Wufoo can be integrated with the google Drive, Dropbox or any other platform.
Pricing:
There are four packages the user can select from those:
Free package includes 5 forms with 100 entries and 10 fields.
Starter Package for $14.08/ month for 10 forms and 1,000 entries
Basic Package for $29.08/ month for unlimited forms and 5,000 entries
Advanced Package for $74.08/ month for unlimited forms and 25,000 entries.
You can also check the pricing here.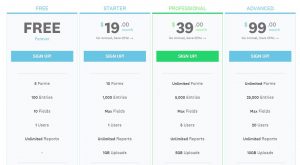 Cons:
The forms can't be interconnected and hence each form has to be analyzed independently.
If someone deletes the form field the data collected earlier will be lost too and can be undone.
Wufoo allows only selective fields in the form and hence you can't customize the fields by yourself.
Start building up your first form in Wufoo!
JOTFORM:
Jotform is ruling the web form builders because of an easy to use and full-featured form builder. Anyone can start building a form without any hustle by just logging into the jotform. All the forms and responses are available in the account of the user. The user can add the form into the website using embed code or directly using the CSS. For WordPress users, Jotform also has a plugin using which you can embed form via a single click. There are a variety of features available in the jotform that makes it the most used web form builder, for example, it's PDF documents generator, Fillable PDF output builder and it's PDF Mapping feature will make you surprised. Without spending a single penny you can get PDF outputs in your email. Remember that you can't create custom logic based PDF outputs in Jotform as it's a bit advance thing, you have to opt for Formstack documents in this regard.
Jotform is offering thousands of built in templates. Also, the user can customize the look and themes by using an advanced editor or injecting custom CSS.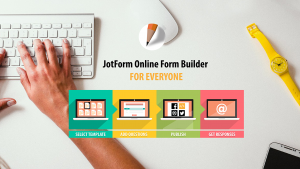 Pros:
All the features and customization are available in jotform
Jotform card version is also now available.
Different payment gateways are available so, it can be used as online shopping.
Thousands of ready-made templates and above 40 themes are available to just select and start with.
Form customization is very easy in jotform.
Conditional logic and branching is available in jotform.
24/7 customer support is available if user finds any issues or queries.
JotForm Price:
Starter package free for 5 forms and 100 submissions per month
Bronze package for $19 /month including 25 forms and 1,000 submissions per month.
Silver package for $39 /month including 100 forms and 10,000 submissions per month.
Gold Package for $99 / month including unlimited forms and 1,00,0000 submissions per month.
You can also check the pricing and plans on the official site.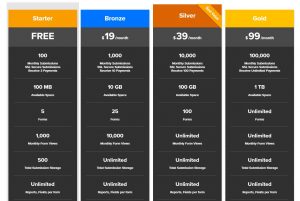 Cons:
Subscription limitations can prevent future submissions thus the user has to manage the submissions at the end of every month.
If you have integrated jotform with some API or web service, and you change your field labels, doing so will change field IDs too automatically hence causing a break in integration. I wish Jotform resolve this bug asap as it's a major error when it comes for smooth workflow management.
Start building web form on Jotform now!
"Jotform 4.0 advanced features and uses"
TYPEFORM
Typeform is a bit different from other form builders in the sense of appearance. All the forms are based on a single view, but Typeform shows only one question at a time in front of the user. This appearance is visually delightful from others in the market. The users can attach background images and videos in the form itself.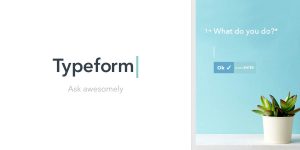 Pros:
Typeform template gallery has a huge number of ready-made forms available.
Users can use images, videos, and multimedia in the form.
Users can also use images in the fields as in multiple-choice questions or in the buttons.
Payment integration is also available for Typeform
There are different and creative possibilities for creating the form and layout.
Logic jumps and flow branching is also supported by Typeform.
Pricing:
The free package includes unlimited forms and submissions
Pro Package for $30 /month including unlimited forms and fields with the addition of pro personalization and logics access.
Pro+ Package for $59 /month which is intended for use by brands.
You can also check the pricing on the official site here.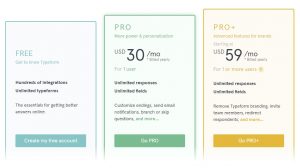 Cons:
Limited options for analyzing the submissions are available.
Limited payment gateways and integrations are available.
For a complete blog on Typeform click here.
FORMSTACK:
Formstack is mostly used where the user wants a form for business or professional work. Formstack has features like denying submission, advanced payment processing, digital signatures, encryption etc. Formstack is preferred by the professionals that are looking for extra features in the form. Formstack has many interesting and non-beatable features that other web form builders aren't providing.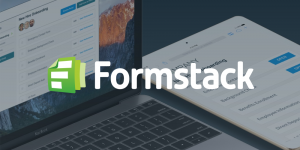 Pros:
An intuitive interface that makes easy to use and develop forms.
Conditional logics can be added.
Ability to archive the form without losing the data is the plus feature of the formstack.
Can send attachments to the receipts using formstack.
Third party integrations are available for different purposes.
Live chat customer support service available to solve your issues.
Pricing:
Formstack provides a variety of packages according to your need, packages include:
Bronze package for $19.0 per month for 5 forms
Silver package for $59 per month for 20 forms
Gold package for $99 per month for 100 forms
Platinum Package for $249 per month for 1,000 forms
Enterprise Package on demand.
You can also check the pricing on the Formstack Official site.

Cons:
Price is high for different packages.
Limitations on all the memberships are present in formstack thus making the process difficult.